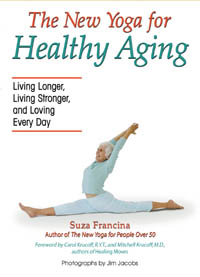 A comprehensive guide for older students and their teachers. One in five Americans is now moving toward the age bracket of "sixty and beyond." This milestone is the perfect time to begin or renew a yoga practice.
Now, under the guidance of a qualified and well-known Iyengar yoga teacher, who is also the author of The New Yoga for People Over 50, readers can reap the benefits of yoga with this gentle and clear guide written specifically with today's baby boomers in mind. Filled with clear instructions, including the use of yoga props and modified poses, plus crisp follow-along photographs, The New Yoga for Healthy Aging takes readers step by step through the asanas (poses) that can prevent or lessen ailments such as osteoporosis, hip fractures, chronic pain, arthritis, Alzheimer's and Parkinson's disease. With heartfelt interviews and tips from some of America's most active yoga teachers and their older students—each sharing wisdom, insights and successes—readers will discover a source of inspiration that will help their practice evolve into more than just those moments they spend on the mat.
The photographs by Jim Jacobs, an over-60 Iyengar yoga practitioner himself, illuminate this book.
Yoga for Healthy Aging Photo Gallery
btn-buy.gif
Search Inside at Amazon.com
Excerpts from The New Yoga for Healthy Aging
Press Release for The New Yoga for Healthy Aging
Interview with Suza Francina
View Galleries and Slideshows from The New Yoga for Healthy Aging at Jim Jacobs Photography.
List of Featured Yoga Teachers and Resources in The New Yoga for Healthy Aging
Praise for The New Yoga for Healthy Aging
"The New Yoga for Healthy Aging is one of the most exciting yoga books ever published. Its promise is one that millions of baby boomers will find comforting—that yoga is a natural prescription for reversing the aging process. The proof is in the lovely and inspiring photographs of yoga students in their later years in poses of beauty and strength. This outstanding resource addresses the common ailments of aging and is as encouraging as it is informative and practical. Suza Francina shows how even challenging yoga poses become "do-able" through the use of props and modifications. Her extensive knowledge and experience teaching yoga is evident and her wisdom and deep caring shine through her words and stories. "
—Peggy Cappy
Author, Yoga for All of Us, and creator of the popular video series Yoga for the Rest of Us, as seen on public television, and the audio CD series Deep Relaxation for the Rest of Your Life.
"As one of America's pioneers in the growing field of teaching yoga to seniors, Suza Francina is uniquely qualified to guide older adults and their teachers in the art and science of yoga practice for healthy aging. This book distills her more than 30 years of experience in teaching, and being taught by, older adults, and the resulting resource is remarkable–both as a practical, how-to manual as well as a moving tribute to yoga's potential for transformation at any age."
— Carol Krucoff, R.Y.T., Yoga Instructor/Therapist and Journalist
— Mitchell Krucoff, MD, Professor of Medicine/Cardiology at Duke University Medical Center, from the Foreword
Authors, Healing Moves
"What a delight to read of "seniors" who are choosing to live life to the fullest and touching their toes while they do it! I felt inspired and hopeful when I read this book, not only for our world, but also for myself as I age. In fact I think I will step on my yoga mat right now and enjoy the fruits of Suza's long experience and clear suggestions. I feel younger already! I strongly recommend this book for all levels of practitioners as well as for yoga teachers."
— Judith Hanson Lasater, Ph.D, PT
Yoga teacher since 1971, and author of six books, including A Year of Living Your Yoga.
"Suza Francina's book is an essential guide for yoga teachers to meet the challenge of the huge wave of people moving into their 60's and 70's. We need to show capable older men and women that they don't have to limit themselves to the simplest poses! Suza's book is for everyone who wants to grow old with grace and strength beyond what they ever imagined possible!"
–Maggie Spilner
Author, Walk Your Way Through Menopause
"I currently teach yoga in a wellness center for seniors under the auspices of California State University and highly recommend all of Suza's books to my students as well as to other yoga teachers. Suza's books emphasize and celebrate the beauty and wisdom of the older practitioner. At 60 years of age, I never cease to be inspired and energized by the stories and pictures of my fellow yogis featured in her books and by Suza's obvious deep regard for older adults and her love of yoga. Suza has found a way to put a "face" (and a smiling one at that) on yoga for older adults. Her books are more than "how to do manuals" on yoga–they explain "why we should" do yoga which is why I love to share them. I consider them yoga book gems!"
–Janice Freeman-Bell, R.Y.T.
California State University and Sierra Center for Yoga Studies
"Suza Francina is an extraordinary yoga teacher, deeply knowledgeable of the field and so skilled in passing on the joy of yoga. Her new book leads students safely and comfortably through a wide variety of poses. She knows the idiosyncrasies of the older population and describes appropriate props and pose variations to be used when needed. We are privileged to have Suza's expert guidance available in this book!"
— Judith Vander
Seventy-year-old yoga student
"Suza Francina presents yoga in a way that creates confidence in readers to be independent and strong."
—B.K.S. Iyengar
From the Foreword of The New Yoga for People Over 50